New Rabaconda Pro Tire Lever set has arrived!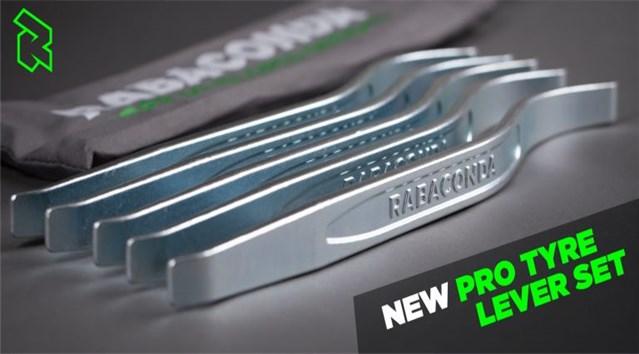 What makes a good tyre lever? Over the years we have used and abused dozens of different tyre levers. Long, short, curved, straight, spoon, steel, plastic, titanium – you name it, we have tried it. After performing over 2,000 tyre changes at racing events and observing even more tyre changes by others, we've built up a rather deep understanding of what works and what does not.
It's all about the shape, size, and material
The conclusion we've come to is that 380mm curved tyre levers have the best performance with every type of tyre. Here's why:

Enough length

 

to mount even the hardest tyres.
The curved shape

 

requires less hand force when mounting a tyre because the curve pivots the tyre bead down already in the early stage of the lever movement. Straight shaped tyre levers pivot angle directs force directly away from the wheel center thus making them harder to use.
The straight end of the tyre lever has

 

plenty of strength

 

for dismounting, and it easily slides out after dismounting the bead.
Backed by science
We gave scientists a task to create the best motorcycle tyre lever …ever. This is not just talk, we contracted an independent mechanical laboratory of Tallinn Technical University to give the whole story a scientific stand. We took a dozen tyre levers with similar shape and size available through larger distributors to them and after testing the hardness and yield strength of each, we developed the requirements for what should be the ultimate tyre lever. Now it's out on the market and we have the confidence to claim that our new tyre levers are the toughest ones available. It might look the same on the surface, but the quality improvements are noteworthy.
Here's what's new and what makes the new Rabaconda tyre lever stand out from others:
Optimized tip dimensions for 

easier insertion 

yet having enough thickness to 

avoid unwanted bending.
Greater material strength and hardness 

to withstand even the hardest tyres and muscles.

Smoother surface quality for reduced friction meaning

 less resistance when mounting a tyre.

Forged 

Rabaconda 

logo as a 

mark of quality

.
Rabaconda tyre levers will last a lifetime and can be passed down from father to son. The set consists of 5 tyre levers, and yes, it still comes with a handy pouch to keep them organized. Buy Pro Tyre Levers Set safely from Rabaconda webshop (US visitors click here to visit our US shop).
Loved by the pros
Rabaconda tyre levers are named PRO tyre levers for a reason. They are the choice of KTM, Husqvarna, Yamaha factory teams and AMA's six-days enduro team since 2012. Used by Taylor Robert, Nathan Watson, Laia Sanz, Kailub Russell, Graham Jarvis, and many others, these are the tools that take the pain out of the tyre changing.
Taylor Robert at the International Six-Days Enduro 2018
0 comments