Rabaconda Rider Graham Jarvis [Q&A]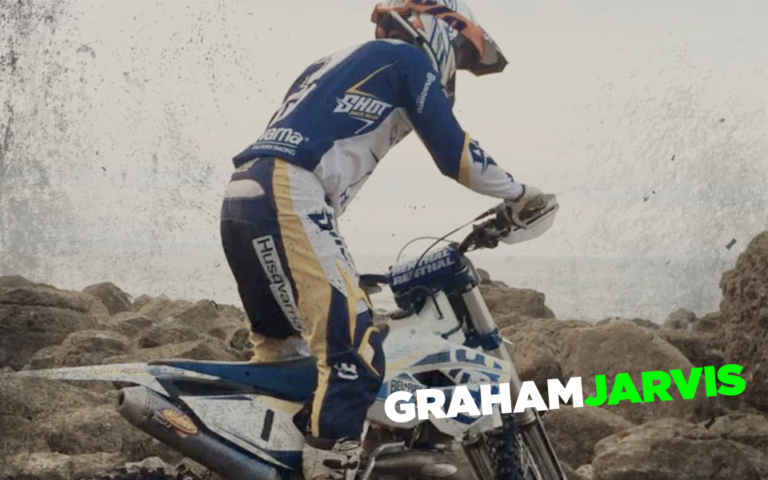 Graham Jarvis started to forge his riding career at the age of 10 when he won his first Trial. Today, he's a top rider in Extreme Enduro. Need proof? He's a 5x British Trials Champion, 4x Scottish Six Days winner, 9x Scott trial winner, 4x Hell's Gate champion and 3x Tough One champion.
How did you get started in riding?
I started riding trials at 10 years old and rode World Championship for 20 years.
What do you do when you aren't riding?
When I'm not racing I like to mountain bike and watch TV.
What are your hobbies?
I like to grow vegetables in the garden.
What do you do in the off-season?
There isn't a real off-season, but between races I help my girlfriend. She owns a tea room.
Do you have any pre-race rituals?
My pre-race ritual is to put on my lucky socks and eat as much as possible.
Where's your favorite place to ride?
My favourite place to ride is Romania because I love the varied terrain and the trails are really flowing.
What was your best moment as a pro rider?
The highlight was winning Erzberg in 2013.
What are your riding goals?
My goal is to have fun riding motorcycles, and I win it's a bonus.
What is your advice for those just starting out?
My advice to people starting out is to start off slowly, build confidence and just have fun.
What's the most memorable DNF have you ever had?
It was a low point this year with a DNF at Hell's Gate when I drowned my bike in water.
Why did you choose the Rabaconda 3-Minute Tire Changer?
I chose Rabaconda because I'm no good at changing tyres so need as much help as possible.
---
Graham's Stats
Name: Graham Jarvis
Birthday: 21 April 1975
Nation: Britain
Team: Bel-Ray Husqvarna Factory Racing Team
Number: 1
Bike: Husqvarna TE 300 & FE 250
Series: Hard Enduro 
Recent Titles:
2015 Red Bull Sea to Sky Champion
2015 Bronze Medal X Games Enduro X Austin
2015 2nd Red Bull Megawatt 2015
2015 2nd Red Bull Romaniacs
2015 Ezbergrodeo Champion
2015 2nd The Tough One
0 comments