GrabCAD Winners: Portable Workbench Challenge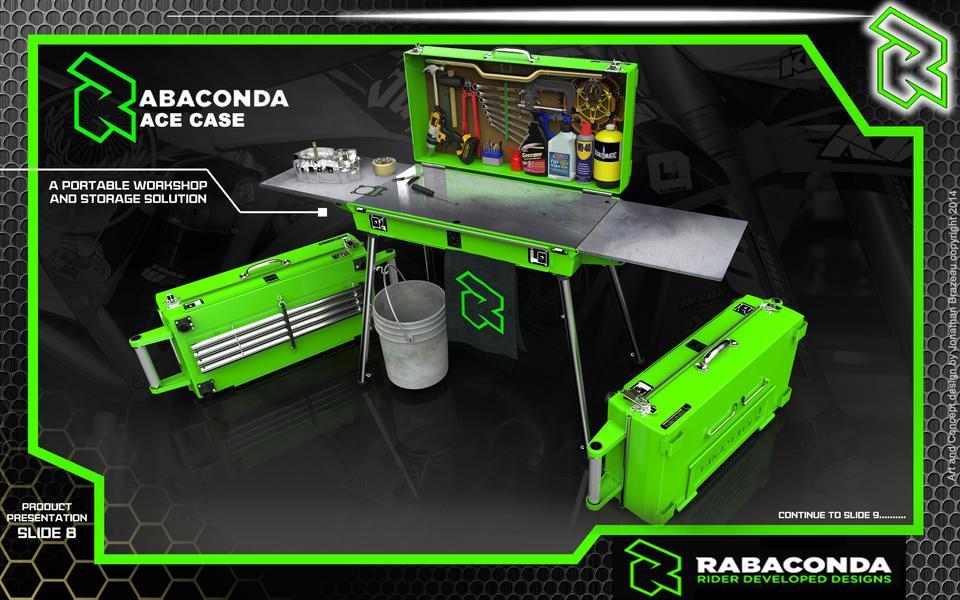 Since its very beginning, Rabaconda has involved as many people in the product development process as possible. When we received the idea to build a portable folding workbench, we instantly knew that this would be a perfect challenge for the GrabCAD Community. We are sincerely grateful for the time and effort all the participants put into this challenge to show us their best designs. When deciding winners, we used our knowledge of manufacturing and experience from racing to rate all finalists for each design guideline. The points we evaluated:
Easy to manufacture
 " estimated cost of each design (based on medium-sized production batches) and production readiness
Assembly, mounting, locking
 " time and effort required for setup, wall mounting and locking options
Light
 " mobility, plus simple and lightweight design
Rigid and stable
 " structural integrity and placement of tools and storage compartments  
1st Place Winner Portable Desk: Rabaconda Race Case by jonathan-149
The way Jonathan has presented his development processes since the early stages has been just outstanding! His personal experience as a dirt biker has really helped him to perceive the needs for the concept and to add his own touch. He has addressed many problems that have gone unnoticed by many others, such as the leg stance, additional workspace options and helmet hooks. Besides great functionality, he has also managed to keep the construction simple and easily producible which is one of the main goals of the challenge. And it looks awesome! This is a great example for GrabCADers on how to stand out with great presentation and by documenting the process! Easy to manufacture: 1 Assembly, mounting, locking: 1 Light: 5 Rigid and stable: 1  
2nd Place Winner RABACONDA Portable Tool Desk by anouar.barodi-1
Anouar's design is really beautiful! Furthermore, he has well shown how the case is constructed. A working area covered with a rubber mat and having raised edges on all four sides is practical. Both offered solutions for legs are strong, adjustable and easy to set up. The paper roll holder folds in nicely. This design covers all the needs and requirements for the portable workbench. Magnificent! Easy to manufacture: 2 Assembly, mounting, locking: 2 Light: 6 Rigid and stable: 2  
3rd Place Winner Rabaconda Pro Mobile Workbench by david.pedersen-1
Sturdy design with an extra large working area. It's good to have the large drawer also accessible with the lid closed. The removable tabletop lid allows storage of larger things. Easily theft-proofed when wall-mounted. Hidden leg sockets keep the look clean. Excellent job! Easy to manufacture: 3 Assembly, mounting, locking: 3 Light: 7 Rigid and stable: 3
Click here for all 76 entries and results.
We will continue to work with the contest winners and will soon share more info on the development. We believe in open innovation and will continue to share our progress.
And please let us know what you think about the top entries! Is there anything to add, any aspects or extra functionality that you would like to see? Kindly leave your comments below.
0 comments