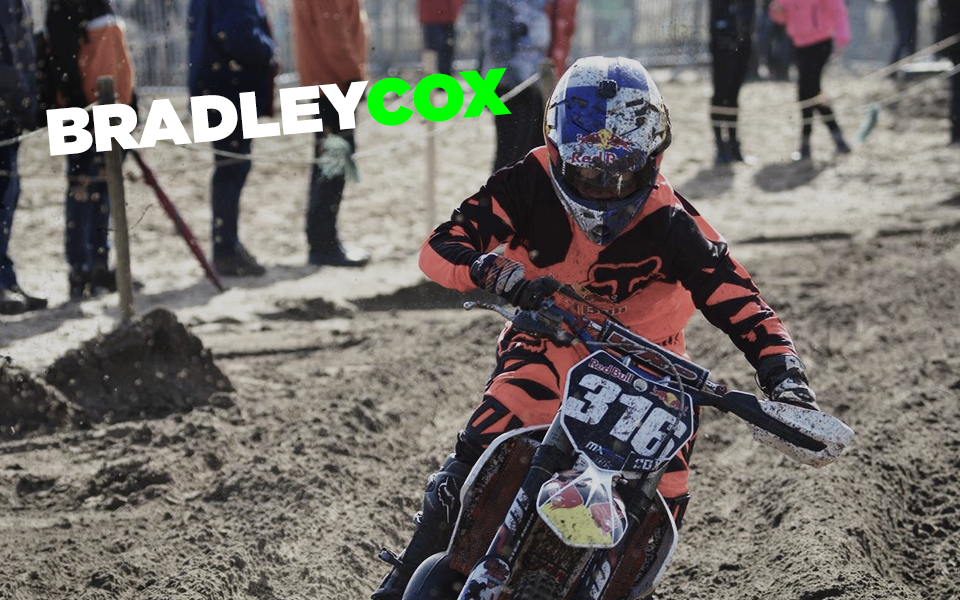 South African native Bradley Cox is a pro motocross racer currently competing in Europe. He has his dad to thank for winning him a bike and getting him started in riding. Check out our Q&A with him below.
How did you get started in riding?
In 2002, my dad (Alfie Cox) won me a KTM 50 when he won a stage at Dakar. After that, it took me about a year before I got on the bike and the rest is history.
What do you do when you aren't riding? What are your hobbies?
I like mountain biking, BMX, and water skiing.
What do you do in the off-season?
I relax. I head back home to South Africa. I go to the lakes there to waterski and just hang out with my friends.
Do you have any pre-race rituals?
I listen to music. I'm always playing with my hands, making them lose, and I pray. Where's your favorite place to ride? Your favorite track?
I like to ride in Lommel, Belgium, and in Teza, South Africa.  
What was your best moment as a pro rider?
My best moment was my first race ever in Europe and being on the podium. What are your riding goals?
I want to win a world championship title.
What is your advice for those just starting out?
Always have fun. Riding a bike is fun and don't rush into doing anything that's not fun.
---
Bradley's Stats
Name:
Bradley Cox
Birthday:
13 February 1998
Hometown:
Westfield, South Africa
Nation:
South Africa
Team:
Bodo Schmidt Motosport
Number:
16
Bike:
KTM 125
Mechanic:
Julien Horn
Career Highlights:
5x South African Champion
7x Natal Champion
7th place at Junior World Championship 2012
Sea to Sky gold finisher
Bradley is on
Facebook
,
Twitter
, and
Instagram
.
0 comments