Preparing Your Gear For a Hard Enduro Competition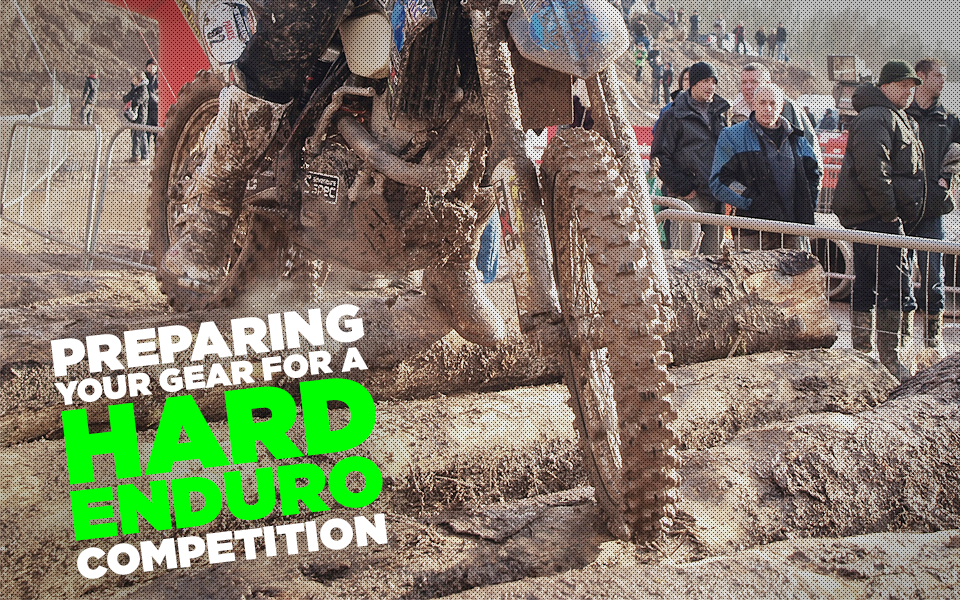 Hard enduro race courses can feel like they are created specifically to illustrate the brutal force of nature and pit you and your bike against the elements. You will be tested every inch of the way by rocks, logs, traps, cliffs, steep uphills and downhills designed to challenge your riding and push you to the edge. This is what makes hard enduro racing exhilarating beyond comparison. It is also why preparing your bike, your gear and yourself properly before racing is crucial.

Preparing your gear for an extreme enduro competition should start well in advance. You may find you need to order new parts and gear, or play around to get equipment race-ready. Don't learn this lesson the hard way. Take the tips below – from an experienced rider – to make sure that your hard enduro race is the thrill it should be.

Protect Your Bike

Protecting your bike is essential when racing in extreme conditions where help may not be quickly on hand if you overheat, suffer a mechanical failure or crash. Before racing, ensure your bike is race-ready using the tips in our Preparing for a Race Checklist, and the following specific extreme enduro racing points:
Use a genuine ventilator that is operating on a thermostat and not on a manual switch.

Get a new battery before the race or make sure your current one is in good condition.

You need radiator guards. Your bike and the ground will become best friends. A broken radiator is the last thing you need during the race.

Use engine guards and exhaust pipe protection for 2-strokes. We also recommend a rear brake disc guard. All elements of nature will turn against your bike (and you, of course) during the race. In some races it feels like the organisers' goal is to ruin your motorcycle as much as they possibly can, so expect them to really put it to the test.

Choose mousse. Don't dare to participate without a good, used mousse. Train with the same ones you plan to race with, so they get softened. Don't forget to take a tyre changing device like 

Rabaconda's 3-Minute Mousse Changer

.

Use soft tires. You need all the grip you can get in a hard enduro race. Have enough tyres to change at least the rear one everyday if you're taking part in a longer event.
Protect Yourself

Keeping your bike in good condition is important, but keeping yourself safe and comfortable is essential. Extreme enduro will push you physically, with terrain and conditions that test even the most experienced rider. Rise to the challenge with the following preparation ideas.
Use hand guards and decide now if you want the open or the closed type. If you use open-type hand guards, get some spare brake and clutch levers. It may be a good idea to invest now in a couple of unbreakable levers (we say more than one because they may brake, too, even if it's unlikely).

Make, buy or create/invent a good GPS steering bar case and try it plenty of times during your training. At times it might feel like you're looking at this device more than the actual trail.

You may want to protect your head light if you will be racing overnight. Rocks and branches could overhang and knock off the light, leaving you suddenly in darkness.

Use soft steering grips, wire them and use installation glue. Bring along extras.

Bring along an extra pair of boots and socks. You will need them.

We suggest having dry and clean riding gear for each race day, whether you wash them or bring a clean set for each day. It's a matter of comfort (and perhaps vanity).

Pack plenty of gloves – as light and strong as you can get.

Make sure your goggles stay fog free as long as possible. Anti-fog spray and a vented dual lense help to keep your vision clear.

Avoid non-breathable waterproof gear. Modern materials offer waterproofness without boiling you in the heat. You can find these in bicycle stores. They're light and take very little space when folded, which makes them easy to carry.
Here's a simple hack for KTM and Husqvarna bikes to make the factory hand guards stronger: Remove the original screws, drill two 7mm holes through the hand guard and the bracket where the screws were before. Then use two M6 bolts and nuts to fix the two parts together again. Rabaconda co-owner Tõnu Kallast tried this hack for Romaniacs and didn't break a single one!
Plan For Problems

No matter how prepared you are, it is smart to plan for the most common problems. Having to drop out of a race for want of a predictable spare or having run out of bike consumables is something you will only do once.
Take along all the spare parts you can get. When possible, taking a second bike that you can use for parts is the best solution.

Pack the special tools that some parts require to be installed. In particular, make your life easier by getting 

a tyre changing device

.

Pack the bike consumables you will need. There are more ideas on this in our article 'What to Bring if You're riding All Day'.

It's really good to have straps on the front and read fenders for pulling the bike, as well as a towing strap for difficult uphills.
Here's another bike hack for hard enduro: Attach a perforated strip to the fork's lower end. This is where the towing strap is attached for pulling the bike. It's also convenient to have a carabiner tied to one end of the rope for attaching and detaching it quickly.
Hard enduro competitions are designed to be tough. You might find yourself alone with only your bike for company for hours as you race through vast forests without any discernible human presence. You are reliant on your bike, your gear and your wits. That's why we love extreme enduro!
Get the prep done right, and your extreme enduro race experience will be the exhilarating thrill you're looking for.

Our sincere thanks to Athanasios Papathanasiou of North Star Enduro for letting us use parts of his Red Bull Romaniacs Participation blog post in this article!
0 comments