Rabaconda Rider Thad Duvall [Q&A]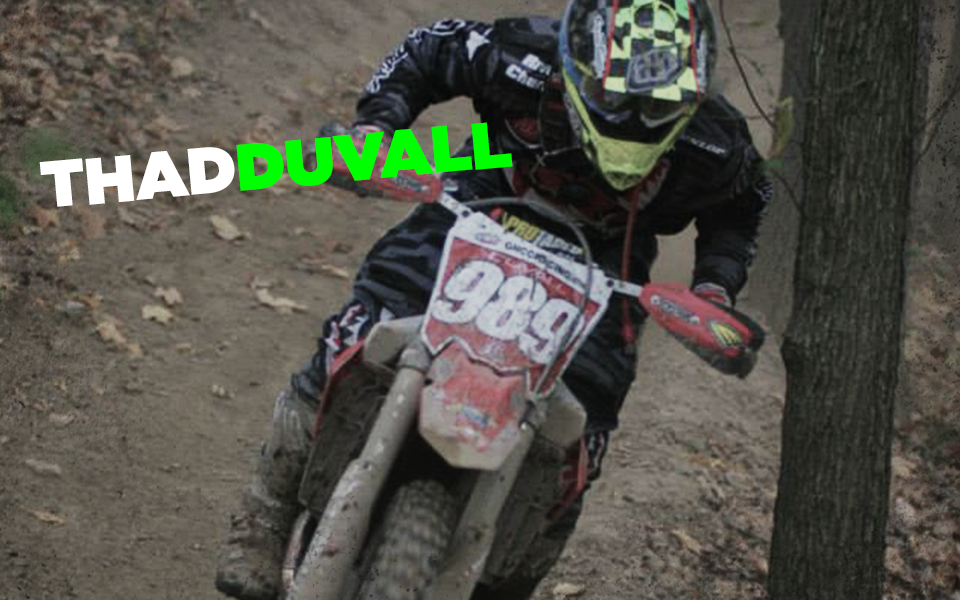 Thad Duvall was practically born riding – his father, Chad Duvall, was racing professionally in the GNCC. By the time he was 18, he had already participated in multiple national championships and won an XC2 title. In addition to the GNCC series, Thad has also raced in the AMA National Enduro Series and ISDE.
How did you get started in riding?
My dad was a pro ATV racer and really into riding / racing. I got my first PW50 when I was 3.
What do you do when you aren't riding?
I like to fish, hunt, and road and mountain bike.
What do you do in the off-season?
Bow fish, ride with my buddies at my place, and race a few local events.
Do you have any pre-race rituals?
Just praying with my family.
Who is your mechanic?
My dad Chad is my home and race mechanic, and David Quill is my race and ISDE mechanic.
Where's your favorite place to ride?
My tracks at my house.
Your favorite track?
WW Motorcross Ranch in FL.
What was your best moment as a pro rider?
My first win at Unidilla raceway right before leaving for my first ISDE.
What are your riding goals?
I want to be overall champion in the GNCC!
What is your advice for those just starting out?
Never give up on your dreams and have fun while you are accomplishing them.
What's the most memorable DNF have you ever had?
Can't really recall any but have had a few DNFs.
Why did you choose the Rabaconda 3-Minute Tire Changer?
Because Rabaconda gets the job done fast and right.
---
Thad's Stats
Name: Thaddeus Duvall
Birthday: 27 November 1989
Nation: USA
Team: KR4 Husqvarna Team
Series: GNCC
Number: 989
Recent Titles: 
0 comments